Top 10 shabbat leisure and cultural activities in Tel Aviv
On Shabbat in Israel, travelers may wonder what they may do for fun and excitement while the rest of the country rests. In Tel Aviv, the city that never sleeps, a buzzing world of culture, music, food and art remains open throughout the weekend, even on Shabbat. In keeping up with the needs of our guests, we've created our list of top ten local hotspots and entertainment attractions open on Shabbat, and suitable for travelers of all tastes and interests.
Dolphinarium
|sunset drum circle: Behind commercial hangouts and shopping streets lies a rhythmic beat unique to Tel Aviv's creative culture. On Fridays at sunset, the city's well-known Dolphnarium plays host to a massive drum circle, where percussionists of all religions, cultures, ages and type casts gather to create heavily danceable rhythms in an all-out festive celebration of the beginning of Shabbat, or to others, simply the weekend. Access to the drum circle is absolutely free, and is located directly behind the Dolphinarium in front of the serene Mediterranean Sea.
Neve Tzedek/Tachana
Tel Aviv's original neighborhood is also it's most fashionable. Neve Tzedek, Hebrew for Oasis of Justice, is an adorable, cobblestone treet-lined neighborhood teeming with European cafes, boutiques by homegrown Israeli designers, stunning Eclectic architecture and a unique village vibe unlike any other area of Tel Aviv. Stroll down Shabazi Street, stop for a coffee or gelato, and continue into the Tachana, Tel Aviv's original train station converted into an entertainment hotspot, and which remains open through Shabbat. Some travelers may opt to catch a dance performance at the stunning Suzanne Dellal Center for Dance in the heart of Neve Tzedek.
Namal Tel Aviv
In northern Tel Aviv lies the stunning Namal, the original port of Tel Aviv that received everything from cargo and supplies to new immigrants to Israel in the early foundations of the country. Today, the Namal Tel Aviv is a hotspot for restaurants, cafes, shopping, great views of the city's seascape and a pleasant boardwalk suitable for family strolls, photographic journeys or a nice layover on the way to Park Hayarkon.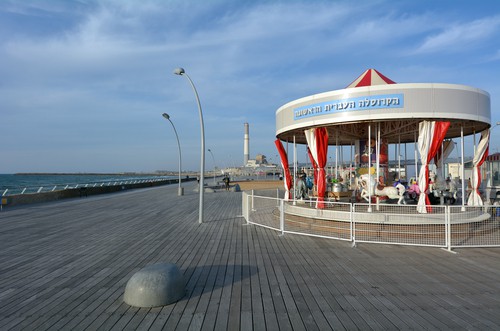 Culinary Experiences / Restaurants
Ask anyone the most attractive aspect of Tel Aviv's creative culture, and you may receive the same response time and time again. Tel Aviv is inarguably home to one of the world's most diverse, eclectic and enjoyable food scenes. On Shabbat, a local favorite lies in a simple visit to one of the city's top restaurants, or even a pleasant café or ethnic foodie spot, for a long, relaxed dinner of innovative Northern African, Mediterranean or Middle Eastern-influenced cuisines. For a list of new and exciting restaurant options, turn to the newly launched Tel Aviv Foodie Guide by Matkonation: https://foodieguide.co.il/
Tel Aviv Museum of Art
The stunning Tel Aviv Museum of Art is a must for any traveler to Tel Aviv, and Shabbat is a particularly good time to visit and explore Israel's largest collection of contemporary international artworks. Explore the world-renowned Herta and Paul Amir Wing, and its architecture, photography, visual art and classical art exhibitions, and into the museum's original wing boasting a wide range of exhibitions and a massive mural by Roy Lichtenstein. Afterwards, sit for a delicious lunch at the museum's in-house restaurant, Pastel. Sarona: In north Tel Aviv, the newly opened Sarona Complex stands as the city's newest entertainment hotspot, boasting meticulously restored 19th century German Templar buildings transformed into art galleries, shopping boutiques and high-end restaurants, including Claro and Tasting Room, as well as the forthcoming Museum Opticana, a visual art space journeying visitors through the history of optical fashion and design.
South Tel Aviv Art Galleries
Formerly a nondescript section of the city, south Tel has developed into an ever-expanding creative scene has emerged as one of the most exciting neighborhoods in the city, boasting contemporary galleries, including Dvir Gallery, Feinberg Gallery and Mashuna street art gallery, as well as bespoke resto-bars and creative concepts geared towards travelers who are privy to artful exploration.
Jaffa flea market
Tel Aviv's sister city of Jaffa is one of the oldest port cities in the world, believed to be location of the biblical story of Johah and the Whale, and home to Byzantine, Ottoman ruins which adorn the city. Today, Jaffa is a bustling, multi-cultural and fascinating destination that offers a myriad of high-end restaurants, local food stalls, unique hospitality options, museums and boutique stores in the city's flea market, a vibrant local hotspot thriving on Shabbat. Stop into Puaa or Shafa Bar for lunch before browsing assortments of design and fashion items in boutique shops.
Hit the Beach!
Plain and simple, Tel Aviv is home to one of the most stunning urban beachfronts in the world. On any given day of the week, the city's buzzing Mediterranean seafront is a vibrant, energetic and peaceful environment for sun worshipers, swimmers, surfers or pure leisure-fiends. Stroll along the tayelet, or promenade, and park your towel in one of several local beach zones, including Metzitziym in the north, Frishman-Gordon and Hilton beaches in the center and Alma beach and Jaffa in the south. The best part about the beach is it's always open!